Nature is a finicky thing. From the cycle of the moon to the time of day, many things can impact when and where the fish may appear on your next saltwater fishing trip. To find the best time to go saltwater fishing, you need to understand everything that could affect your area's fishing conditions. Read on to learn more: 
Saltwater tides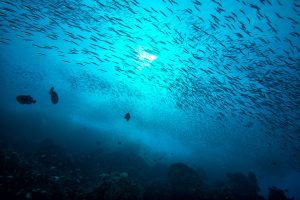 As anyone who has been around the water will know, the tides continuously fluctuate throughout the day. The way the tides are moving will impact where the fish may be, and when. Large amounts of water movement will stir up baitfish and crustaceans, attracting larger fish to the area. As such, the best time to go fishing is when there is a strong, incoming tide. You can consult the daily tide charts to determine when this might occur.  
Lunar phases
Even if you're not fishing during the night, the moon still affects the fish. Saltwater tides (see above) are stronger during a new and full moon, so it's always best to fish during these times of the month. Additionally, if you are fishing at night, a full or new moon may be beneficial as there will be more light, which in turn attracts more fish. 
Time of day
The actual time also matters for deciding on when to go fishing. In general, dawn or dusk is the best time to go saltwater fishing, as this is when the tides are strongest. 
Weather patterns
If there is a warm or cold front moving in, then it's time to head out onto the water. Before a cold or warm front passes through, the barometric pressure will drop, causing some cloud cover that will to be suitable for your fishing trip.   
No matter the time of the day, month, or year, we at Morning Flight Charters are always ready to get you out onto the water. Book your next fishing trip today either online or by phone at 207-831-2426!